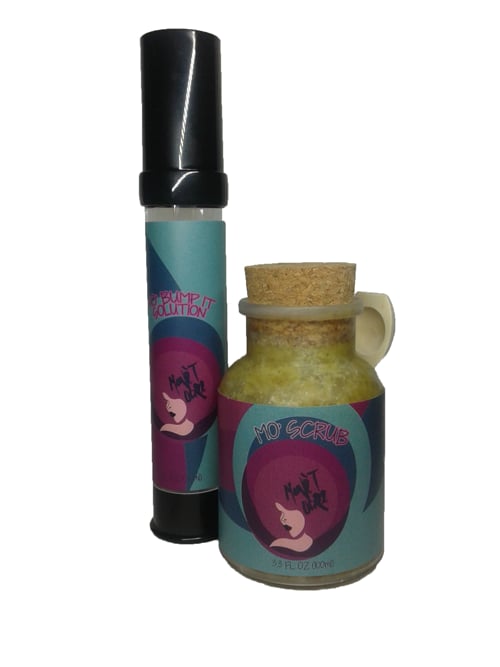 The Dynamic DUO. Amazing by themselves, Powerful together. The Scrubs assist in the removal of dead skin and penetrating the skin with active enzyme ingredients, followed by the application of MO' Solution that assist in preventing inflammation. The two together prevents dead skin, dirt removal, and irritated inflamed skin from clogging the pores. The skin that feels refreshing hours after exfoliation will leave you ecstatic about your next spa treatment on yourself!.
Both products can be used on any part of the body that grows hair, which is everywhere! So give it a go!!
Application:
MO' Scrub; Use the designated spatula to portion out the product. For more abrasive exfoliation, use product on dry skin prior to rinsing with water. For less abrasive exfoliation, dampen the skin with water then in circular motion apply scrub. Exfoliate for 1 minute before rinsing. Use 2-3 times a week
MO' Solution: Distribute a small portion of MO' Solution onto a cotton swab, apply to dry clean skin. Using a patting motion, gently saturate the area of the skin. Within several seconds, the Solution will dissolve into the area applied. Use Daily or 4 times a week.